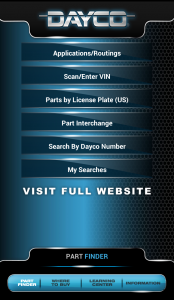 Dayco Products, recent winner of 3 awards at the Automotive Aftermarket Products Expo 2013 (AAPEX), have introduced the Dayco App for mobile devices. It's an app optimized to help automotive technicians and part dealers find easily and quickly all Dayco Products (timing belts, hoses, tensioners, serpentine belts, etc.) related to any type of vehicle being serviced.
The Dayco App offers various part search methods including by a vehicle's license plate number, using VIN code (scanned or introduced manually), entering the Dayco Products number directly, or using an interchange number from another brand. Additionally one can use the year, make, and model of a vehicle to find all the respective parts. Even more, the app allows to save searches for easy access in the future.
Also, the Dayco App accompanies each search result with routing guides, step-by-step installation videos, and parts specs.
For more information about the Dayco App, please visit the www.daycoapp.com website. There you'll find links to install the app for free, and also you'll be able to watch a video demonstrating the Dayco App.
Devices with operating system Android, can install the Dayco App via GooglePlay.

Devices with operating system iOS (iPhone/iPad), can install the Dayco App via the App Store.