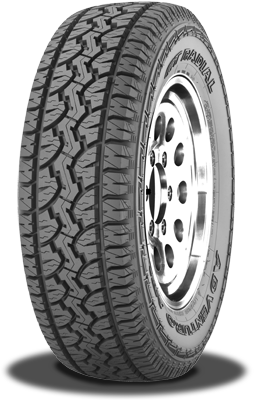 New all-terrain tire GT Radial Adventuro AT3, combining the comfort of a on-road tire with qualities that permit it to have great grip in an off-road environment such as wet, mud, and desert terrains for SUVs and light-trucks.
It has a technologically advanced design which allows the tire to absorb impacts and vibrations with a tire tread engineered with the purpose of providing a quiet and comfortable ride while on the highway. The pattern contains grooves which allow excellent water displacement and escape. In addition to having great grip on soft surfaces, the new GT Radial Adventuro AT3 has also been constructed with the objective of minimizing wear and deformation of the tire, enhancing its durability.
David Sharlton, marketing director of GITI TIRE USA, stated that the GT Radial Adventuro AT3 is "Engineered to deliver the benefits consumers expect from an on- and off-road tire" with the confidence that it'll be well accepted by all tire dealers and their customers.
Now available at Mascaró-Porter Co., Inc. Seek them at your favorite tire dealership. For more information:
http://www.gtradial.com/