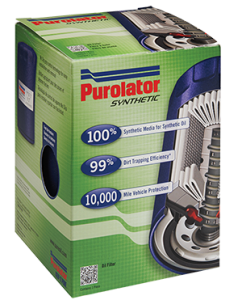 It is common knowledge that synthetic oil is more long lasting, which has created the bad habit of not making oil filter changes at the recommended frequency, which annuls the benefits of using this type of motor oil. Purolator has the solution with their new line of oil filters specialized for usage with synthetic motor oil.
The media in Purolator Synthetic Oil Filters is 99% more efficient than the alternative, which means that it removes 99% more dirt and junk that is found in motor oil. This is accomplished with a wire-mesh that gives support to the filter's media, which maintains it intact and durable.
Depending on a vehicle's and motor's recommendation, this combination allows Purolator Synthetic Oil Filters to protect your motor for 10,000 miles, as opposed to other types of oil filters that may be recommended to be changed every 3,000-5,000 miles as specified in the vehicle.
No matter what type of motor oil one uses, be it synthetic or regular mineral oil, the necessity of changing an oil filter at its appropriate time is not altered. Whether it's necessary to change the oil or not, it's immaterial to when one should change the motor's oil filter, even though it's recommended that one should change the oil filter every time one changes the motor oil. As such, if one is to use a more long lasting motor oil like synthetic or semi-synthetic types, it is highly recommended that one uses a synthetic oil filter like Purolator Synthetic Oil Filters.
Additionally these filters have a "No Slip Grip" on the outside of the entire can, making changing oil filters easier than ever.
The Purolator Synthetic Oil Filters are now available in Mascaró-Prter & Co., Inc. and they can be found using the prefix "PSL" on product codes such as:
PSL10111
PSL10241
PSL12222
PSL14006
PSL14459
PSL14476
PSL14477
PSL14610
PSL14612
PSL22500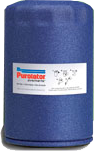 For the good health of your motor demand Purolator filters in your quick lube or auto part of preference in Puerto Rico. But more importantly, demand that they use Purolator Synthetic Oil Filters to be used with synthetic or semi-synthetic motor oil to create better habits in your auto care.
For more information:
http://www.purolatorautofilters.net/