The
SmartChoice Mobile
app, created by
Federal-Mogul
, allows automotive service providers, including part dealers and automotive technicians, find parts easily and quickly for any type of vehicle, including SUVs and light-truck.
You can search parts with the ease of a simple scan of the VIN code of an vehicle, and if your device doesn't allow scanning, you can enter the code manually. Also you can search by application entering year, make, and model of a vehicle just the same as you can also input specific part numbers and interchanges.
Additionally this app is a tool to improve communication with your clients, allowing deliveries of the vehicle diagnosis and to keep them informed of the status of the repair electronically. Not only this, if you need help from a Federal-Mogul professional, now with just the press of the button you can communicate with them.
As you're subscribing, as of yet "Puerto Rico" doesn't show up as an option in the registration form, but you can select another state such as "Florida" or any other of your choice and you'll have full access to the application.
Devices with operating system Android, can install SmartChoice Mobile app via GooglePlay.

Devices with operating system iOS (iPhone/iPad), can install SmartChoice Mobile app via the App Store.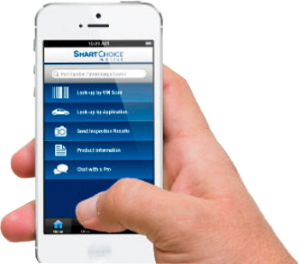 For more information visit:
http://smartchoiceapp.com/