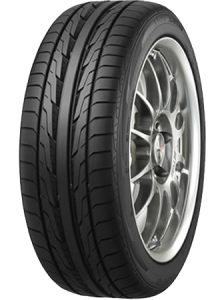 The Toyo Tires DRB (TYDRB) is a quality tire, renown for being "Balanced Performance" within the ultra high performance market providing a more comfortable ride.
The need for a entry level tire within the ultra high performance market has been identified for those that appreciate a sport look and high performance, but don't want to sacrifice the comfort that a touring tire provides. That's how the Toyo DRB tire is introduced, a ultra high performance tire that presents more balance between the desire for high performance and the desire for a highly comfortable ride.
It's a tire that complements very well the Toyo Tires T1 Sport which has even more performance, but it's not offered in some sizes that the Toyo DRB has availability in as it's with 14 and 15 inch rimmed vehicles.
Toyo Tires has once again delivered by producing a high quality tire with a look that it is stylish as it is sport. Additional to providing a comfortable and silent ride, it's a tire that provides good and quick steering and braking response like it also responds excellently on dry and wet surfaces. The Toyo DRB is the alternative for a balanced ultra high performance tire, and the best option for small cars that hunger for a ultra high performance tire with magnificient comfort and manageability.
Mascaró-Porter & Co., Inc. has the Toyo Tires DRB available for Puerto Rico, and they can be found with product codes preceeded by "TDR". Ask for them in your favorite tire shop.
We distribute the Toyo Tires DRB in the following sizes:
175R55-15
185R60-13
185R60-14
185R55-15
185R55-16
195R60-14
195R60-15
195R50-15
195R50-16
195R55-15
195R45-16
205R60-13
205R60-15
205R50-15
205R50-16
205R50-17
205R55-16
205R40-17
205R45-16
205R45-17
215R60-15
215R50-17
215R55-16
215R55-17
215R40-17
215R45-17
225R60-16
225R50-17
225R55-17
225R45-17
235R45-17


For more information:
http://www.toyotires.com.my/tire/pattern/toyo-drb